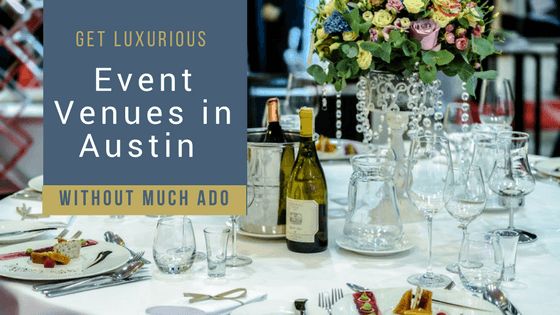 If you want an exquisite event venue for any occasion then it may seem a difficult task. One can actually dig places, search for venues that suit the theme of the event and figure out the budget. For those looking out for budgeted venues with a tint of luxury, it is possible to convert a normal event venue into an exquisite space. All you need is an event planner with loads of creativity and the right attitude to help you out.
How to Get Luxurious Event Venues in Austin at Cheap Prices?
Book much ahead of the actual event: Advance booking works well in minimizing the cost of event venues in Austin. When you commit to hiring event spaces in Austin, they offer you discounts and thus, you can select luxurious event venues without paying huge amounts.
Choose event in off season: Go for low season time as these periods offer huge discounts to improve the occupancy rate. During off season, the occupancy rate becomes 70% and thus, event vendors offer cheap event venues in Austin. You will get discount on everything during an off season time so, it would cut down your budget by a large margin.
Use selective features only: You can decide to use specific features and not everything in the luxurious venue. Cut down on what is not required in the event, whether it is a corporate meeting space or a wedding in Austin. Being precise with the areas to be used, one can actually save upon a big deal of money.
Pay for what you use: You may not use certain services and so, categorically negotiate while selecting the venue and say no to pay for it. You will not only save money but also limit the function within the best activities. It is important to discuss and negotiate with the event vendor in Austin. This helps you to get the best event venues at cheaper rates.
What else? Figure out ways to get the best event venue in Austin and manage it within your budget. It's all about negotiating skills and you will be surprised to get an exclusive venue. If you want to check out some of the most sought after event venues in Austin Texas then ask the team of EventVines. We offer all kinds of event spaces in Austin and will suggest the best one for your requirements.
To know more about our services, discount deals on event spaces and to discuss your requirements, feel free to get in touch with our team at https://eventvines.com/.