It's Time to Act

Did you know that the average person generates over 4 pounds of trash every day? That means that the average American will generate approximately 1.5 tons of solid waste each year! In addition, Americans waste enough food every day to fill an entire football stadium! Consequently, this means America is wasting over 30 million pounds of food a year. If Americans wasted just 15% less food, it would be enough to feed 25 million Americans.
Being environmentally conscious is no longer just the "nice" thing to do. It's the right thing to do. Therefore, the time is now to act. It's time to make choices that will preserve our planet.
Better Environment, Better Tomorrow
People expect companies to be environmentally responsible. From their choice of supplies to waste management, sustainability matters. Austin's own Green Fern Events (GFE) is a Full Service Event Management Company. As the leading producer of zero waste events (events that divert at least 90% of waste from landfills), GFE provides solutions for all waste management needs. Recycling and composting at events is easy with GFE!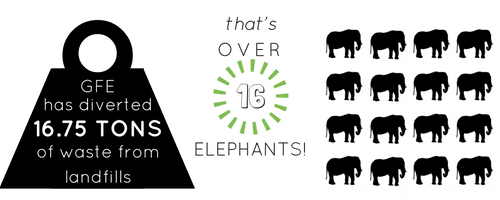 Green Event Leaders
GFE offers a wide variety of green event services to help clients celebrate consciously. They take the stress out of the planning process, therefore allowing clients to focus on building relationships. Oftentimes, these services come at no extra cost to clients. In fact, in most cases, environmental savings translate to cost savings.
GFE proudly helps reduce the negative environmental impact events while delivering high-quality service at a cost-effective price. They work with each client to make every event amazing! 
Hosting well-implemented green events will distinguish your company as culturally relevant and trustworthy. For organizations with an environmental focus, successful green events are even more critical to the company mission and the brand image.
Come Together
One of the many definitions of an event is "bringing people together for a purpose". Planning a green event does not only leave a good impression, but a legacy for future generations.
Contact GFE today to learn how you can host an event that supports sustainability!