Collaboration is a powerful tool for brand awareness. Event Vines and Aviator Nation teamed up during SXSW 2019 to give an experience of Austin infused with activities to fuel your mind, body, and spirit. We offered practical tools and a beautiful space to connect and grow at the South Congress Aviator Nation store.
Brand Experience
Each year, SXSW causes a surge of people, special events, and energy throughout Austin. Our city's population doubles during South by Southwest, and almost all the guests are staying central – nearby the action – breeding an ideal setting for advertising and offering people a first-hand experience of your brand.
Event Vines' purpose is to create connection and growth through meaningful events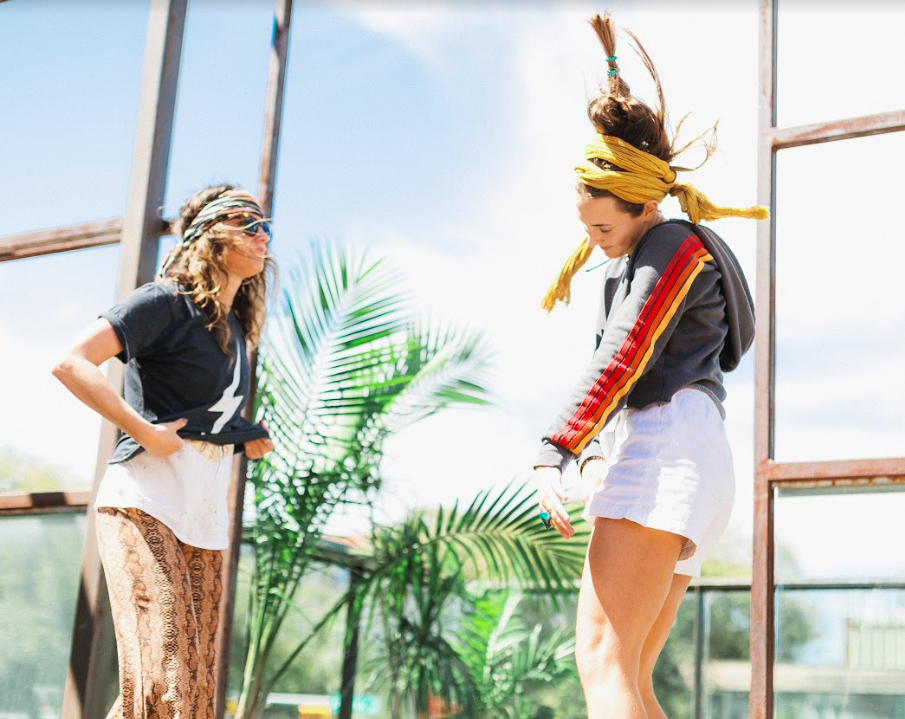 Community Building
Aviator Nation is a California lifestyle brand known for its 1970's inspired clothing and use of bright colors, tropical prints, comfortable clothes and positive messaging. They recently opened their retail space on South Congress where in addition to serving as a storefront, they provide shoppers with a space to cultivate community. In the past, they've collaborated with brands like Austin City Limits Festival, Soul Cycle, Lollapalooza, and Willie Nelson's Luck Reunion. Aviator Nation's Founder, Paige Mycoskie was in a featured speaker at SXSW on a talk about – "Retail Spaces that Build Community". Check out Aviator Nation's blog post about SXSW here.
Good Vibes Only
Aviator Nation's South Congress location is primed for lots of foot traffic and good vibes! The first-floor space features a pool table, disco ball, arcade games, and a stage for live music performances. During SXSW, there were musicians and DJs performing on the stage each evening, with free cocktails sponsored by Mighty Swell, Deep Eddy Vodka, Waterloo Sparkling Water, and Titos. Their second floor is an amazing open-air rooftop space with a view of the Austin skyline. Event Vines brought in rugs, floor cushions, and pillows by Party at the Moontower to make the space beautiful and comfortable so that guests could connect with each other and enjoy the beautiful spring weather. A GIF photo booth sponsored by Simple Booth captured the fun in action! 
Wellness Programming
Daily rooftop yoga, led by Sun & Moon Fit kicked off the Connect & Grow Lounge each morning. Other activities throughout the day we included were breathwork by Lion Rituals, cacao ceremony by Sarita of Ancient Future, meditation, tarot, poetry, live art, glitter bar, body paint, Austin silent disco sound experience by DJ Godiva, and live music. Guests were invited to enjoy complimentary snacks, beverages, and CBD. Our intention was to inspire guests to make healthy, empowered connections in all areas of life.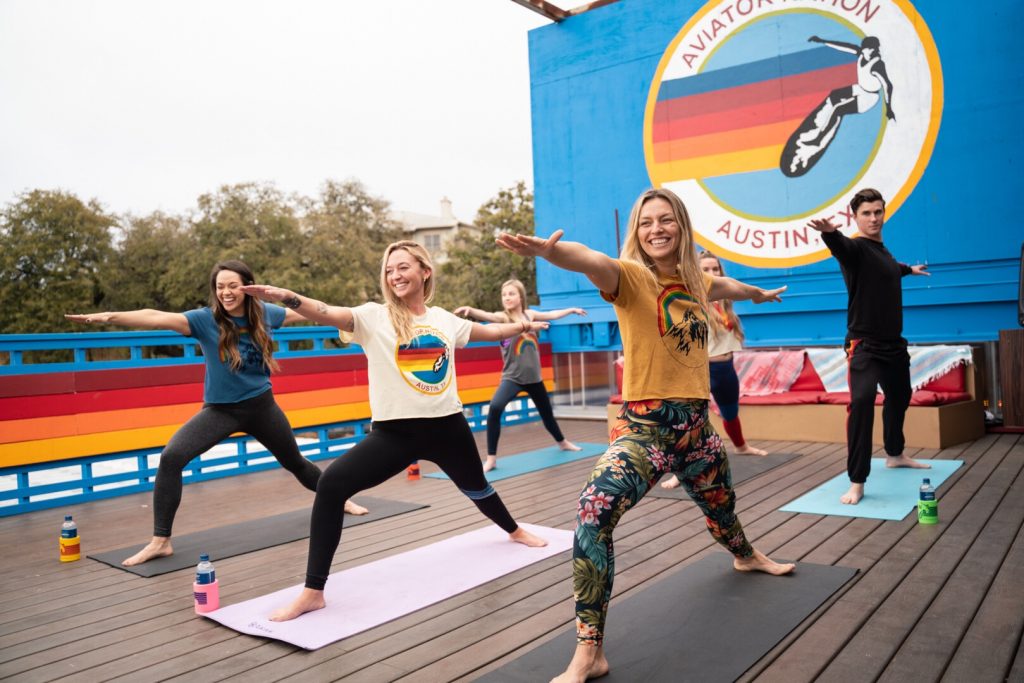 Better Together
Through our collaboration, Event Vines and Aviator Nation gained exposure together, while also sharing the workload and therefore empowering each other's brands. This event was a 10 day series with several moving parts and 3 days as SXSW official. It was not an easy feat, but it was so much better having the combined support of our teams!
Do you want to host a SXSW event, collaborative brand experience, or offer your space for events? Reach out to [email protected]