Let's be honest – flower crowns look fantastic on everyone and when placed on your head, you instantly feel regal, like a queen! We teamed up with crafting specialists, Austin Learnshop and Alejandra Hill for our first ever craft workshop to learn how to make flower crowns like a pro – hosted at South Congress Hotel on September 14th.
Flyer design by Event Vines Marketing Specialist, Lizzie Aguirre: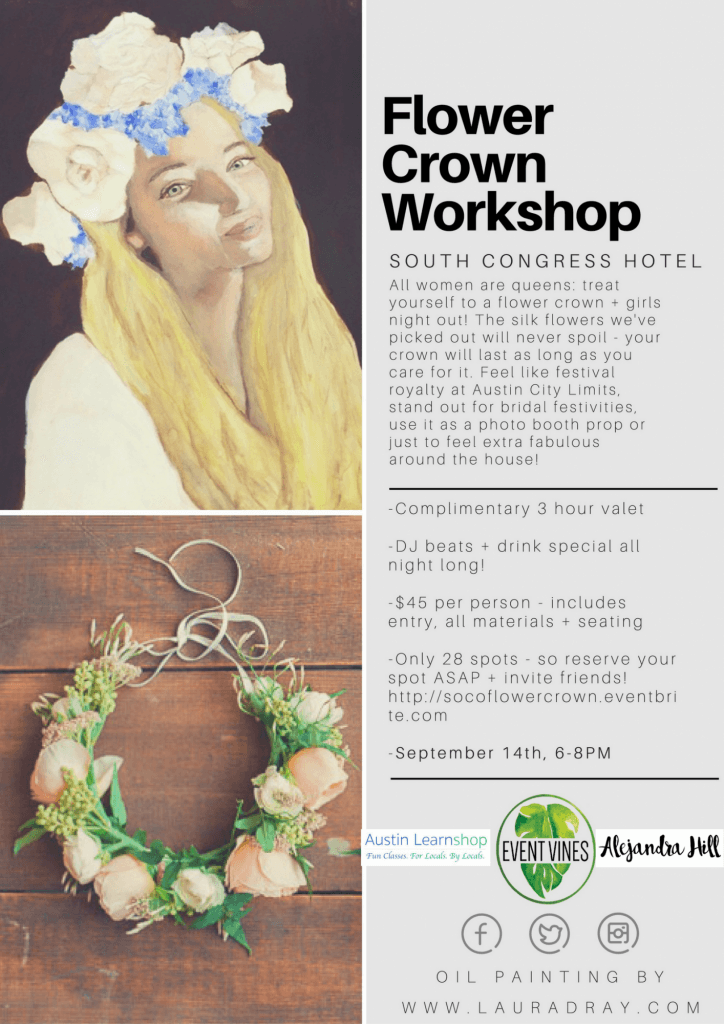 We hosted the event at South Congress Hotel – which was the perfect setting! The community table has access to the wait staff for cocktails and snacks, there is plenty of natural lighting and it's open to the lobby, offering a laid-back vibe to attendees.
We loved how the interior design of the space allowed an easy setup! We lined up the silk flowers in a row down the middle and kits in front of each seat.
Alex led the workshop while we all enjoyed getting to know everyone while crafting. Rosé was definitely a table favorite, as were the truffle fries. My Event is The Bomb brought the photo booth and their rep, Nicole stayed to make her own crown. See the photo booth fun HERE!
Our workshop kicked off the Wednesday night series at SoCo Hotel.
Every week, you can cure the Monday Blues with a stiff bourbon drink and Motown records spun by DJ King Louie and DJ Manolo Black in the Lobby Bar, every Monday from 7-11pm. Featuring $6 Old Fashioneds and $6 Gold Rush cocktails.On Wednesdays, join us and unwind with dub records, $6 Daiquiris & $6 Scorpions, 7-11pm. Free valet parking available for up to 3 hours. On the 1st Thursday of every month, enjoy drink specials and vendor entertainment. Every Sunday from 1-4pm, Stephen F. Frostin' has an ice cream social in the hotel's courtyard. "Like" SoCo Hotel on Facebook to stay up to date on special events HERE
Check out South Congress Hotel's listing on Event Vines to view reviews and request a quote for your upcoming events. They have a beautiful event space that opens up to the courtyard – both are available together or separately. Their lobby bar is beautiful and spacious – it's also available to rent out as a partial or full buyout.
"Like" us on Facebook: Event Vines, Austin Learnshop
Share your ideas here for future workshops and events that you would like to attend in Austin!