We know it can be difficult to organize an event in Austin close to SXSW.  Space becomes almost as gridlocked as our traffic.  But maybe your company wants to throw a party to gain exposure, grow your email list, or just to sponsor drinks for a group. You have lots of options! What are you to do in a limited time frame? We've done some of the legwork for you so hopefully you can pull of that sweet soiree without the stress of finding the perfect venue. 
Event Vines has established relationships with local venues, so we can quickly and easily round up bids and negotiate to get you the best deal possible.Email [email protected] to connect with these venues or share your budget to learn if there is anything available in your price range. Many of these venues come furnished, include audio / visual equipment, and have flexible pricing – it can't hurt to ask, right? 
Downtown Establishments: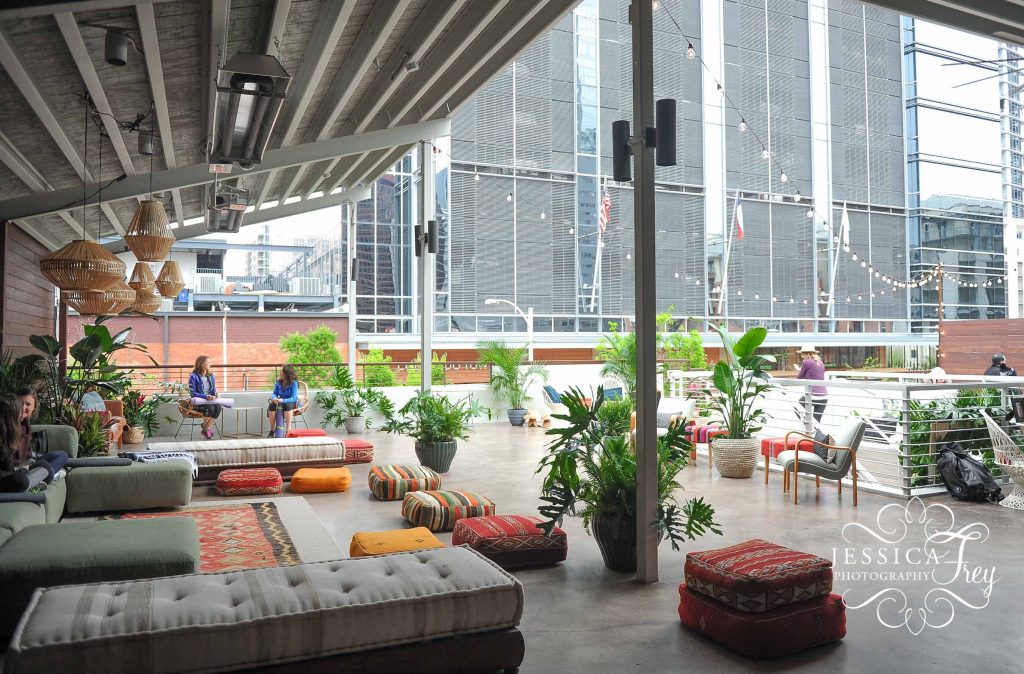 Venue Type: Event Space  
Address: 310 Colorado St., 78701
Capacity: 250 standing, 150 seated
     The Vaughn is a spacious event space boasting beautiful outdoor seating and versatility. This space is a blank slate for a variety of event types. It is a quick pedicab away from the Austin Convention Center, but toward many of the venues hosting the music portion of SXSW. The Vaughn's gorgeous patio with bright furniture make it an ideal venue for a raucous launch party or unforgettable mixer. Rentals include exclusive use of the prep kitchen, an on-site manager and built-in bar packages. The staff is well equipped as well to coordinate additional event elements.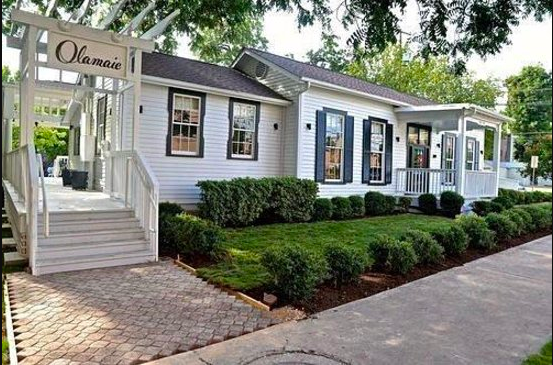 Venue Type: Bar/Restaurant
Address: 1610 San Antonio St., 78701
Capacity: private dining – 16, chef's table – 12, garden table – 10, porch table – 14, outside porch – 40, full restaurant – 70 seated inside, 200 outside
Olamaie has a transportive quality with its classically Southern-style exteriors and simple, clean interiors. It is in a refurbished home on the outskirts of Downtown, just West of the SXSW's epicenter. This space is flexible. It can host small, intimate gatherings, or larger events with the rental of the entire restaurant. Olamaie is specifically heralded for it's food menu, which was a semifinalist for a James Beard award. They do, however, have a carefully curated cocktail menu as well.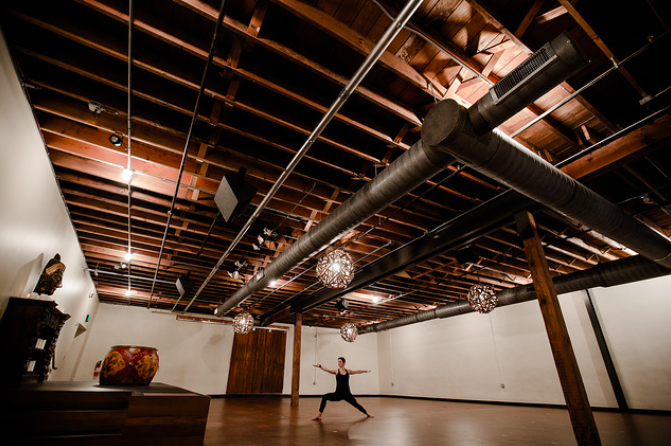 Venue Type: Yoga Studio
Address: 209 E. 4th St., 78701
Capacity: 300 guests
Few venues are closer to the Austin Convention center than Wanderlust Yoga. This space offers a large open room just a few steps from the ACC. It offers two private rooms as well as the lobby. Overall, it extends 6000 sq.ft and has 14′ foot feelings, giving it a capacious feel. It is a flexible, raw space that could host a variety of functions. Want to collaborate by sponsoring a day or week of yoga and meditation classes instead? That's an option too!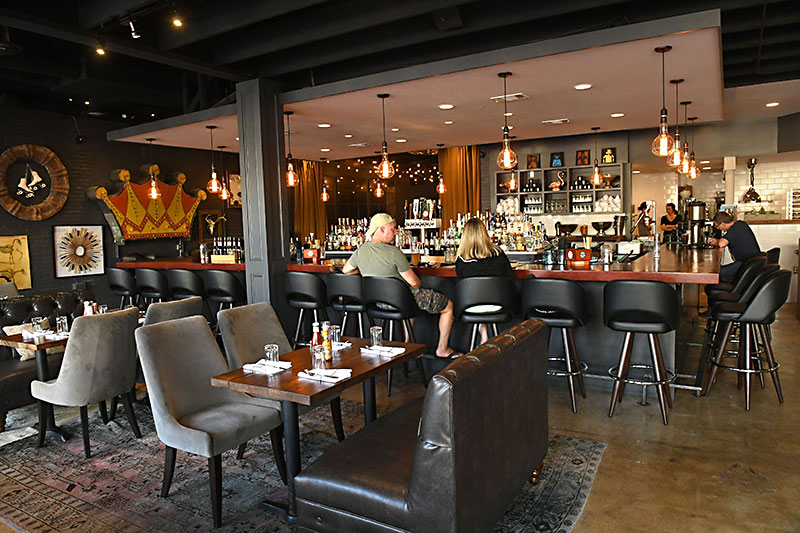 Venue Type: Bar/Restaurant
Address: 509 Rio Grande St., 78701
Capacity: 30-150
     Holy Roller is a relatively recent addition to the downtown eatery options, although it has quickly garnered great reviews and popularity among the hippest of crowds. This gritty yet stylized bar and restaurant is just 3/4 of a mile from the Austin Convention Center. It offers two options for renting, either buyout of the entire venue, or for more intimate affairs, just the back room. The entire venue can host 150 guests, while the back dining room can accommodate 30 seated or 40 standing.  Keep in mind, events with food do need to have their menus solidified two weeks prior to the event.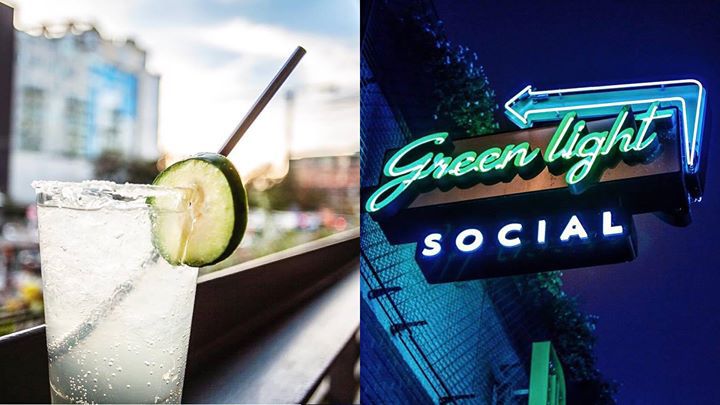 Venue Type: Bar
Address: 720 W. 5th St., 78701 
Capacity: 40-275
      Green Light Social is nestled on the corner of West 6th, one of Austin's busiest streets for night life. It offers indoor and outdoor space as the bar is divided across several levels. Guests can seek out areas to sit and converse, or gather together for conversation in one of the larger rooms.                                                                                                                                                                    Rental options include buyout of the entire venue, which can accommodate up to 275 guests, or for smaller gatherings, "Benny's Room" which can hold 40 people. Both spaces have a bar and are TABC licensed. They offer audio and video connections for custom media experiences.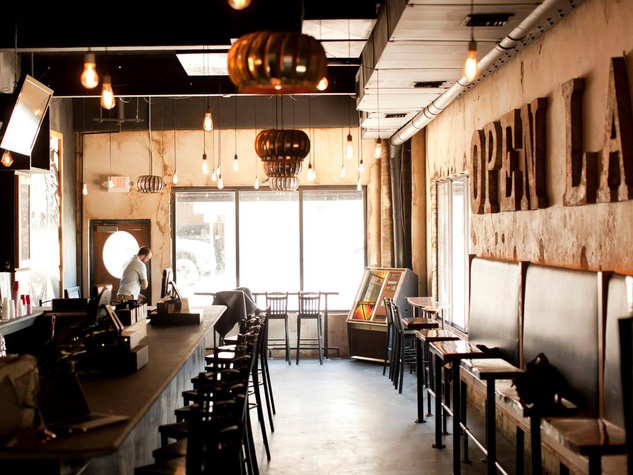 Venue Type: Bar
Address: 121 E. 5th St., 78701
Capacity: 40- 300 guests
     Handlebar is the closest venue to Austin Convention Center on this list. It is just a few blocks West and one block South of the busiest part of Sixth Street. This fun and funky Austin space is home to a larger, main bar and seating area as well as a smaller bar next door known as Red Headed Step Child. Both would be fantastic settings for an after-panel mixer or networking event.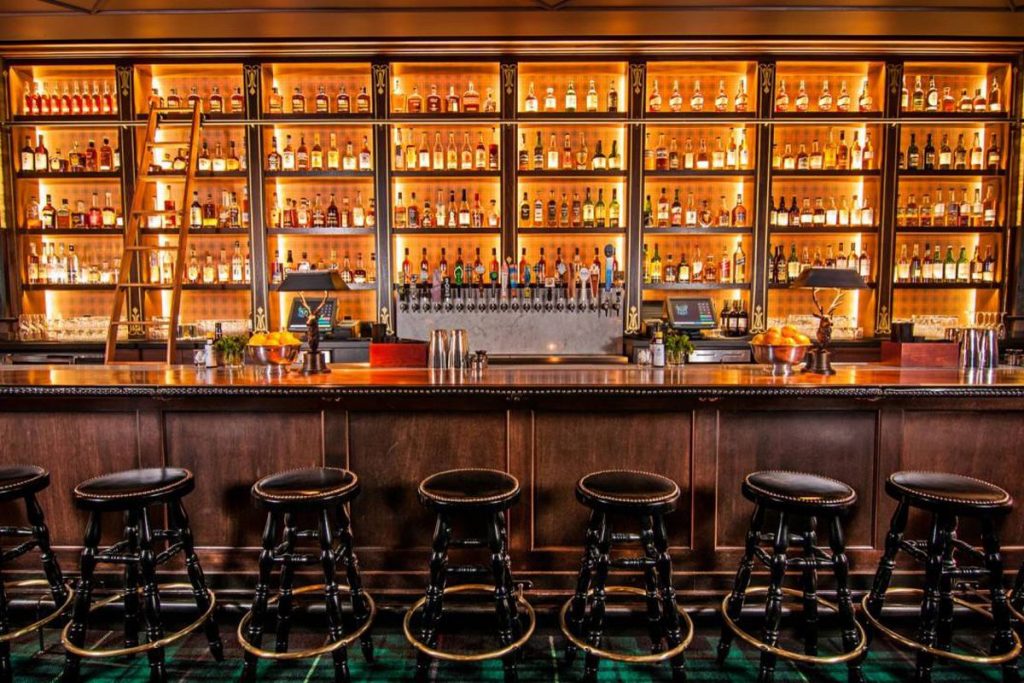 Venue Type: Bar
Address: 405 E. 7th St., 78701
Capacity: Seven Grand – 200 guests, Las Perlas – 125 guests
These two specialty bars are located just a few blocks north of the Convention Center. Seven Grand has a massive, and unparalleled whiskey selection, while Las Perlas displays an impressive collection of mescals, tequilas and Mexican beer. Both bars share a big back patio, perfect for mingling in the warmer March evenings. Each space also has good acoustics for live music. Alternatively, the venues offer speaker systems with WIFI and XLR inputs if a bumping playlist is more your style.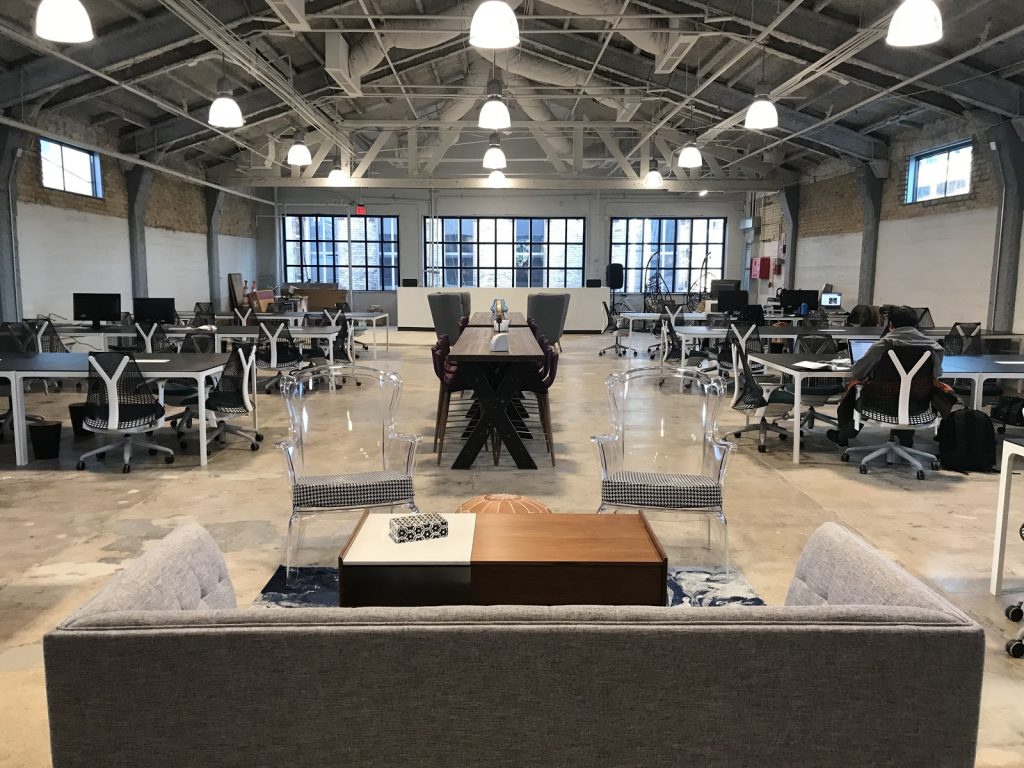 Walmart Business Center
Venue Type: Business Space
Address: 409 Colorado Ste. B, 78701
Capacity: 80+
Walmart – yes that Walmart – renovated an 8000 sq. ft. commercial space that was the former home to the Alamo Drafthouse offices. The venue is open concept with long tables meant for conversation and co-working. It has already gathered the permits to allow SXSW events and is ready-to-go for anything from a discussion driven get-together to a good old fashioned bash. They do make note that their furniture must remain in the space and be used if possible.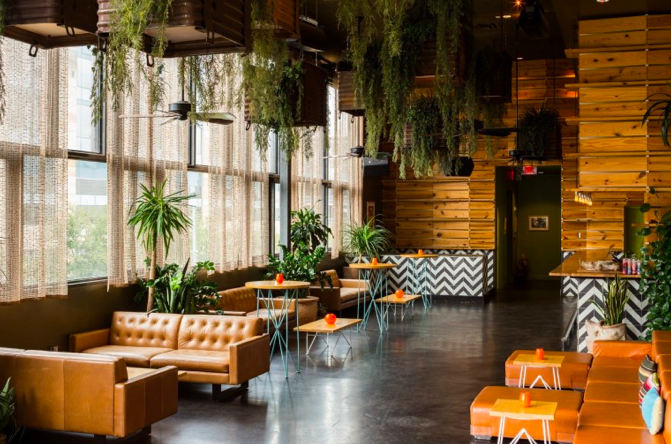 Venue Type: Bar/Restaurant
Address: 400-B W 2nd St., 78701
Capacity: 50-125 guests
Malverde is the private, rentable space over La Condesa, a popular restaurant on 2nd street. This indoor and outdoor space overlooks Austin's iconic skyline and into Austin City Limits theater. It offers cocktails from La Condesa's cocktail program in addition to catering with prior arrangement.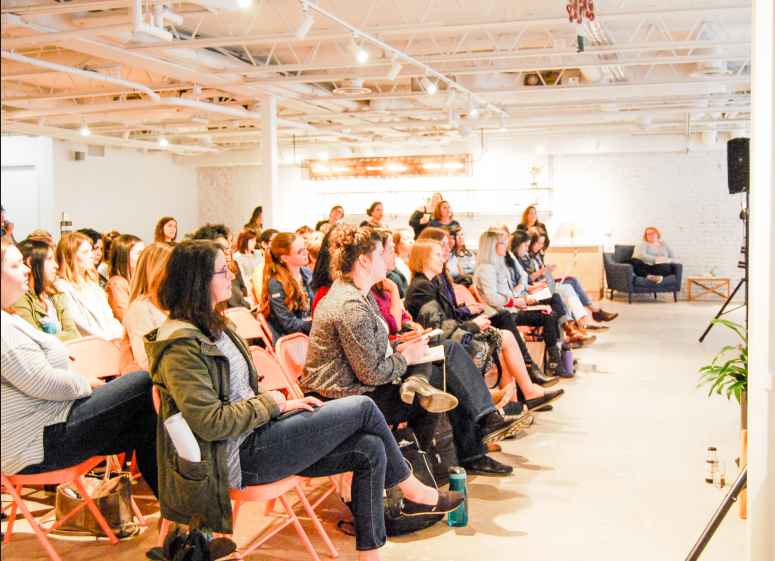 Venue Type: Co-working Space
Address: 612 Brazos St., 78701
Capacity: Up to 350 guests
The Refinery offers all the makings for a fantastic event. This popular co-working space is also intended to hold a party. Rent it for your branded cocktail hour or bold blowout. Plus, the beauty of this option is that it includes trendy glassware, decor and serveware, as well as a SONOS sound system, wireless mic and a projector. A one-stop-shop for a hip, memorable party.
East Austin Establishments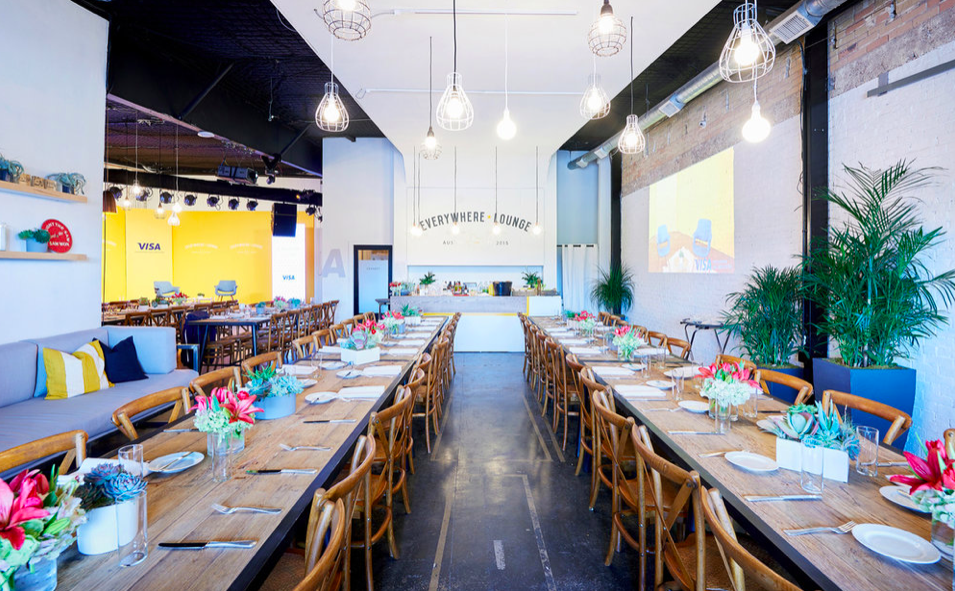 Venue Type: Venue
Address: 908 E 5th St. #106, 78701
Capacity: 200 guests
This 2400 sq. ft. venue is just East of downtown and offers a raw, brand-able space. It comes furnished with stylish seating, tables and chairs, but all decor can be removed should the event require it. In addition, the Revelry offers a mini fridge and food prep area, WiFi and AV equipment.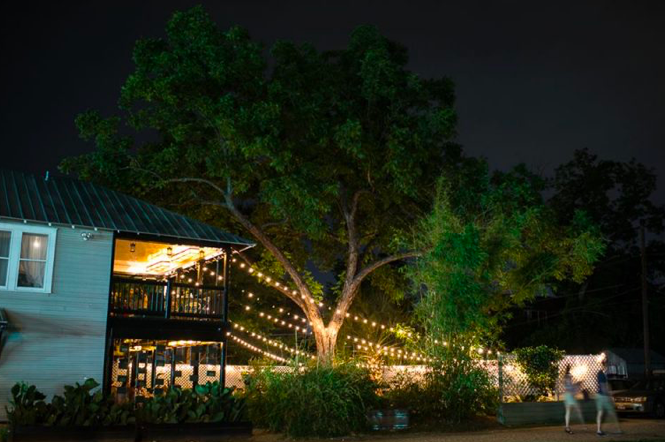 Venue Type: Bar
Address: 1808 E. Cesar Chavez, 78702
Capacity: backyard patio – 100 , inside bar – 50, 2nd floor patio 30, side lot – 300, venue buyout – 500
Weather Up is a beloved bar on the East Cesar Chavez. It offers a series of versatile spaces with a funky, vintage vibe. The indoor bar has a dreamy, almost romantic feel, while the string-lit outdoor spaces are expansive enough for a large gathering. They offer a sound system and a projector with a 10' screen. TABC licensed staff can be included as well with access to their beer, wine and cocktail program.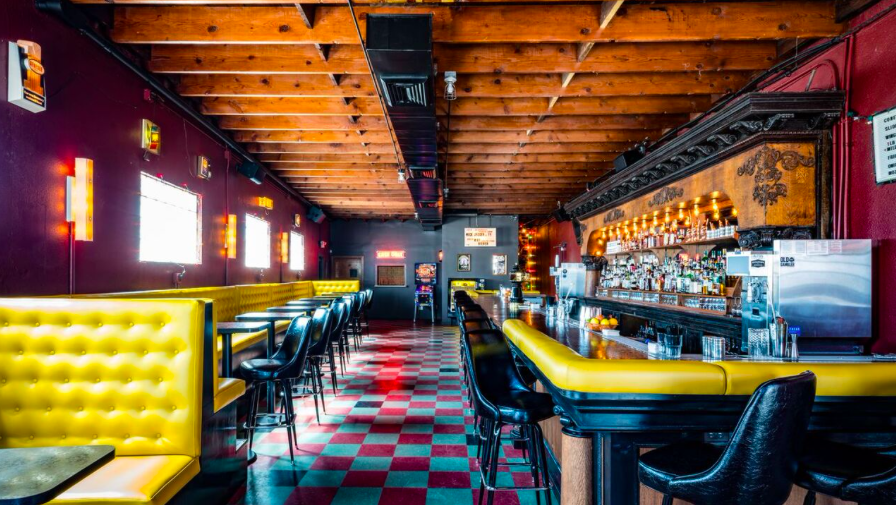 Venue Type: Bar
Address: 1188 E. 11th St., 78702
Capacity: lower banquet and front corner, 10-15, back corner – 30-40, venue buyout – 100
Nickel City has a vibe like no other. It unabashedly emulates a comfortable, neighborhood bar with a cozy, lived-in feel. The bar offers simple cocktails and beer as well a sliders and hotdogs from their Detroit-style food truck, Delray.  This smaller bar would be a spectacular space for a more private event.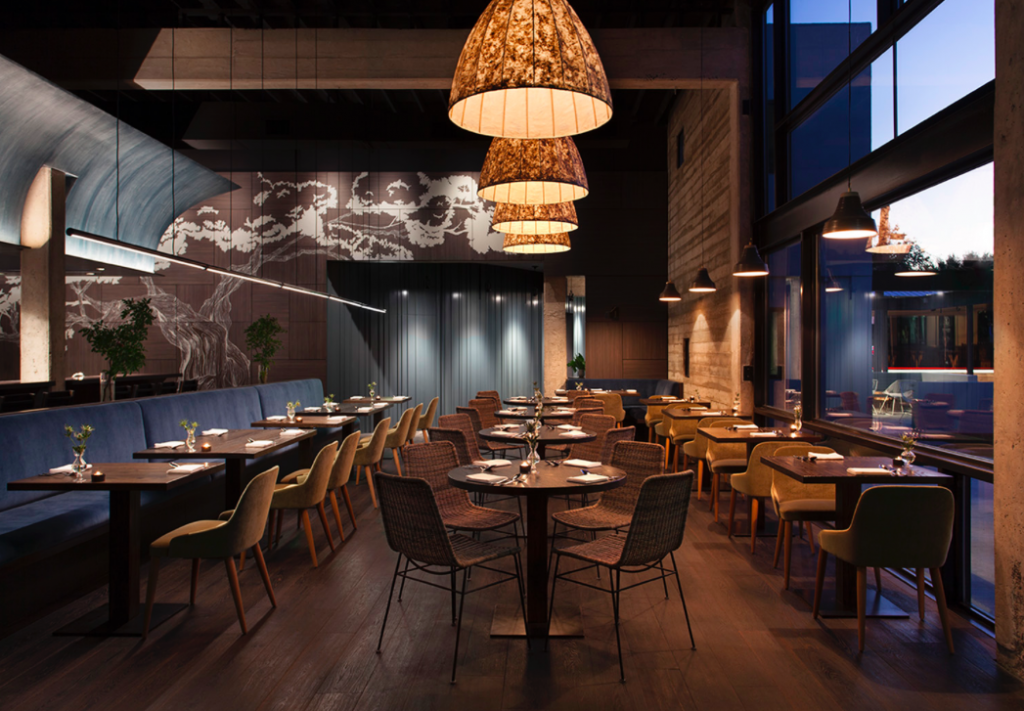 Venue Type: Bar/Restaurant
Address: 2400 E. Cesar Chavez St #304, 78702
Capacity: main dining room – 54, bar – 19, covered patio – 20 to 30, full restaurant – 65 seated or 120 standing
Juniper immediately presents a luxurious experience. This gorgeous restaurant offers a meticulously curated wine and cocktail menu, as well as a distinct food menu that delivers Italian food with a uniquely Austin flare. Juniper can provide an upscale evening to truly wow your potential investors or impress new clients.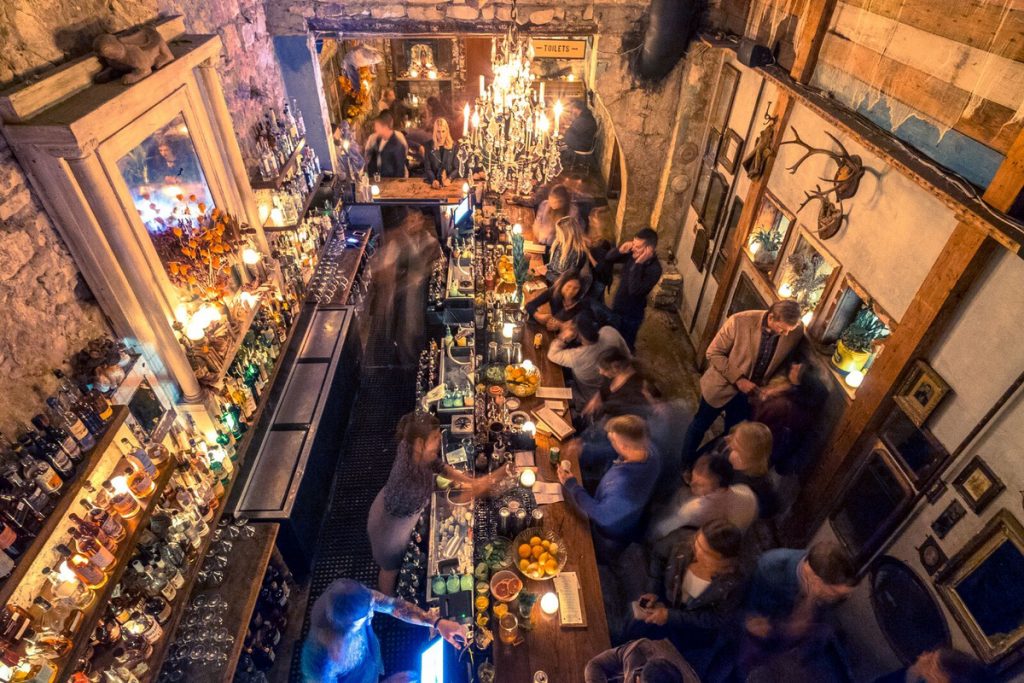 Venue Type: Bar
Address: 1816 E. 6th St., 78702
Capacity: inside bar – 80, outside bar – 80, outside patio – 150, Mezcaleria – 30, full buyout – 350+
Whislers is known for delivering speciality cocktails in a rustic yet refined space on the East side. This incredibly special venue has a big outdoor space which is home to Thai Kun, a well-known Thai, street food truck.  Just above the main bar at Whislers is Mescaleria Tobala, a speakeasy that offers a wide selection of Mescals in a cozy setting. The outdoor area is large and open with plenty of seating and tables.
Off The Beaten Path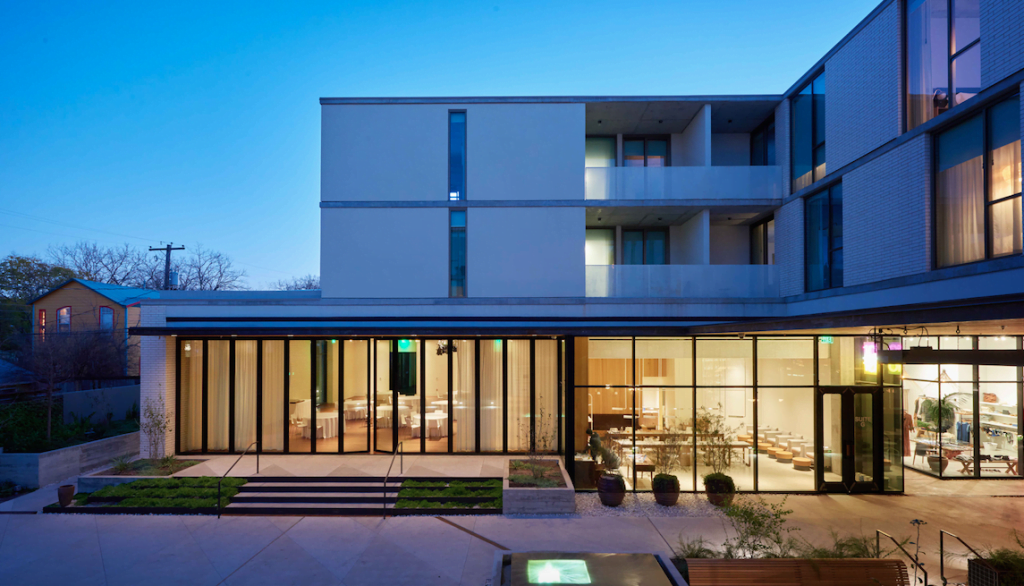 Venue Type: Hotel
Address: 1603 S. Congress Ave., 78704
Capacity: 10-300+ guests
Alright, this venue isn't entirely off the beaten path, but it is a bit South of Downtown. Located in the heart of "SoCo", the hotel offers several different spaces for whatever the event. Their indoor/outdoor space is a wide room with glass doors opening onto a terrace which can be outfitted with a bar or their own little ice cream truck. The lobby bar is a chic yet laid-back area that could easily host a 300 guest event. If you prefer something smaller, the hotel also has a a hidden bar upstairs and even a coffee shop for the morning gatherings.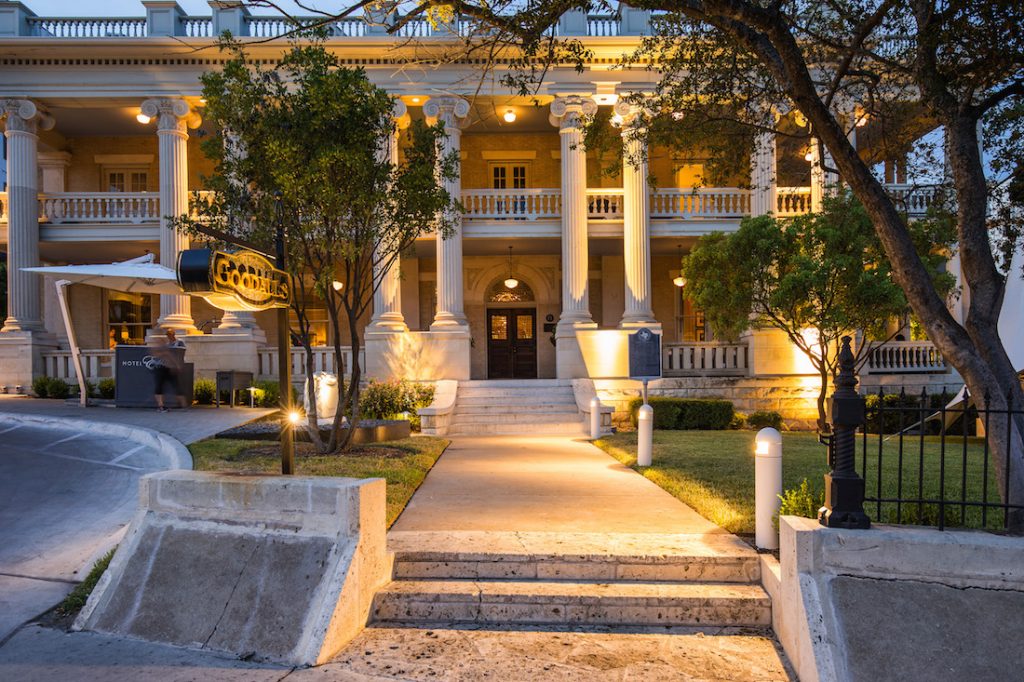 Venue Type: Hotel
Address: 1900 Rio Grande St., 78705
Capacity: 250 guests
Hotel Ella is a beautiful, historic hotel just South of the UT campus. It has an old world vibe that exudes refinement. They boast impeccable service from their staff, catering from their in-house restaurant, Goodall's kitchen and access to A/V equipment if necessary.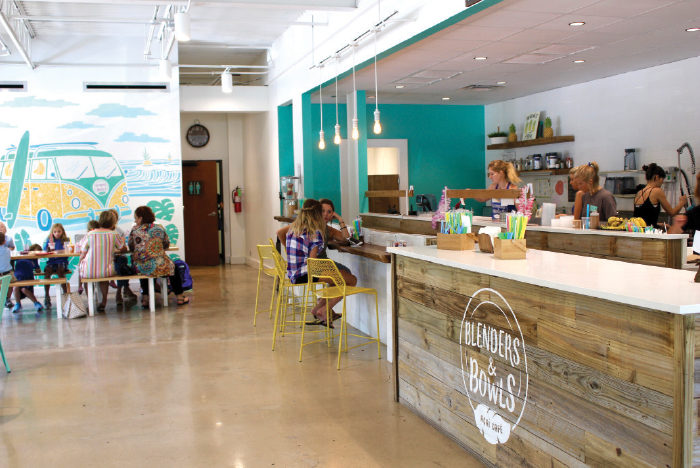 Venue Type: Restaurant ( 2 locations available )
Addresses: 3736 Bee Caves Rd. Ste. 8, 78746 OR 1625 E. 6th St., 78702
Capacity: Approximately 100
Blenders & Bowls is known for serving up their fresh and flavorful acai bowls and smoothies. Invite your guests to imbibe in a hangover cure in one of their three locations. This bright, colorful venue offers a laid-back vibe along side high quality snacks. This would be a different, yet memorable space for the forward thinking host.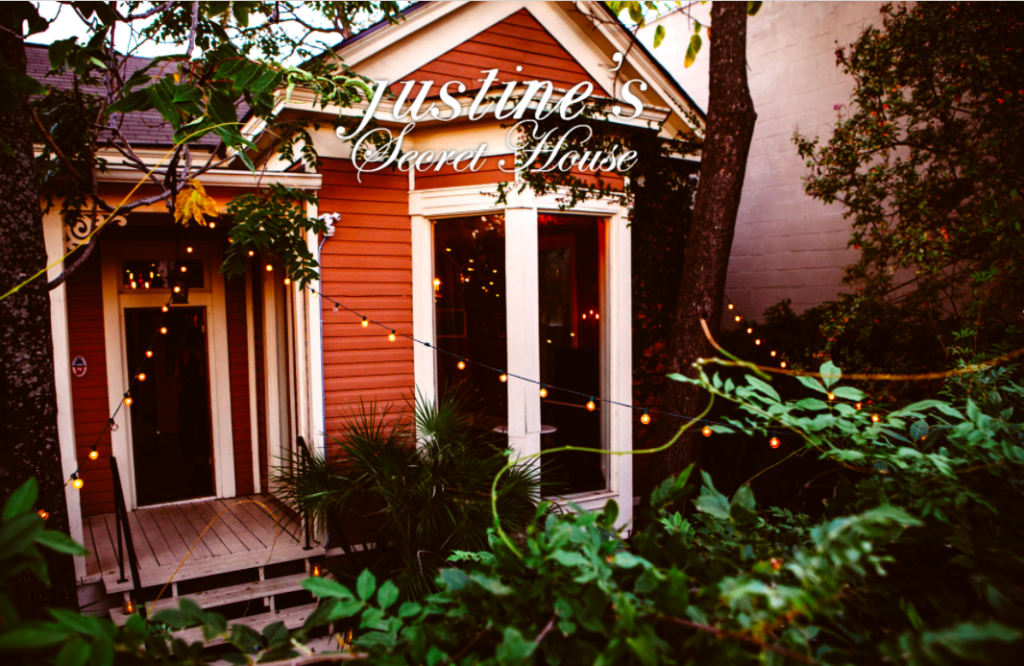 Justine's Secret House
Venue Type: Bar/Restaurant
Address:  1303 E. 7th St., 78702
Capacity: 150+
Justine's Secret House is a locations you'd find at the end of the rabbit hole. This enchanting space a little farther flung East, offers a peaceful getaway from the hustle of Downtown. Enjoy craft cocktails in its one-of-a-kind atmosphere while your guests marvel at the transportive feel of this venue.
Interested in inquiring about rates for any of these venues? Email [email protected]