There are few things more amusing than attending parties that are put on for (and by) the event industry. This seemed to be a shared understanding by everyone who attended ILEA Live in Austin last week. There was endless entertainment, networking and stimuli – so much, that it was literally everywhere you looked.
In attempt to capture and share the fun – the Event Vines team created this summary showcasing the highlights of the conference.
About ILEA
The International Live Events Association has been around since the late 80s – and started out as the International Special Events Association (ISES). Due to it's alarming sounding acronym, the organization recently initiated a re-branding campaign. With the new name, ILEA, there is also a new energy – one that's embracing the mission but evolving to meet the demands of a new age.
The International Live Events Association mission is to provide members and stakeholders:
Collaborative networking
Education and professional development
Inspiration
Outward awareness and credibility
ILEA Live is an international conference created to deliver an experience of stimulating ideas and collaboration with other creative professionals from around the world.
Uniquely designed, ILEA LIVE centers on the role of CREATIVITY, INNOVATION and COLLABORATION in live event experiences.  The conference features top creatives in varied fields including event planning and production, film, fashion, music, art and design.
Event Vines + ILEA
The Founder/Director of Event Vines, Callie Ogden first joined ILEA (then ISES) as a student member. She was introduced to the organization during a summer semester abroad, studying at Queen Margaret University, under Dr. Joe Goldblatt. Her professor spoke highly of the members and the power of networking. A widely celebrated ILEA member and Founder/Owner of Marquee Event Group, Damon Holditch spoke to Callie's class in Edinburgh and his words changed the trajectory of her career. He emphasized the importance of community and being a leader – urging any students who were serious about a career in the event industry to join ILEA and seek out opportunities for growth. Branding himself as "the guy in the cowboy hat" with the rental business that delivers in hot pink trucks – he encouraged us to be bold.
Callie returned from Scotland, promptly joined ILEA and has been connected ever since. She's recently joined the Membership Committee and is an active member of the Austin chapter. Damon continues to provide unwavering support for Callie and Event Vines.
Venues + Vendors from ILEA Live
Austin's event industry generously volunteered to sponsor the ILEA events. See the featured venues in the slideshow below and click HERE to see the list of vendor sponsors
Kickoff happy hour – Deep in the Heart of Texas
The newly launched Parkside Projects venue, 800 Congress, nestled a few blocks from our Capitol building, was the perfect setting for the theme. The event planning and activation, by Big Time Creatives cast an exciting forecast for the events ahead.
Live music and the smell of County Line BBQ filled the space. Ilios Lighting did amazing work with the lights – splashing the brick walls with the shadow of Texas oak trees. Bella by Sara added pops of colorful floral arrangements, mixed with fruit and gold skull vases. McClendon Photography snapped amazing photo booth pictures, several featuring Chrysalis Austin (Anne Shackelford) models, who were covered in her artwork from head to toe.
Preview all of the photo booth fun here: http://mclendonphotography.pixieset.com/ilealive/
Lisa Hause Photography captured the night beautifully:
A Trip through the 60's, 70's and 80's
This year's President's Reception was held at the Palm Door on Sixth and featured fun decor and outfits to match the theme, which was a trip through the decades.  As guests arrived, they stepped back into the 1960s through the lens of Elvis' Blue Hawaii. The 1970s left everyone a 'little Dazed and Confused' (which was our favorite, since that film was shot in Austin and seems to be a lingering vibe in the city). The best of the 1980s (hair bands, loud music and MTV) were paid tribute through live music and a lively dance party.
Technology at ILEA Live 2016
There was creative use of technology throughout ILEA Live, from entertainment to costumes, there was an impressive display of modern event production. There was even a Tech Hub dedicated to technology, full of exhibitors showcasing their products that can be utilized during events.
Tech Hub Exhibitors: All Seated, Amusement Masters, Champagne Creative Group, Gig Town, CrowdSync Technology, Party Valet, SOS Charging Solutions, The Apprentice Program.
Keep ILEA Weird – exactly how we like it!
Austin celebrates unique thinking and people, which is showcased in our city slogan, "Keep Austin Weird". ILEA also embraces pioneers and creativity, so it was a fitting theme for Thursday's Opening Event at Brazos Hall, produced by Clink.
Education
AUGUST 12, 2016 at JW Marriott + LBJ Library: Where We Are All Heading, Copyrights & Trademarks: Understanding How They Can Work For Your Business, Life After Networking, Loyalty Lessons From Lady Gaga, (Offsite) Education Experience at LBJ Presidential Library, Minding the Gap – Finding Payoff Between the Lines, IdeaFest: A Fall Event Trend Forecast, Emerging Technologies, Creativity at Play, Debating the Future of Live Events
AUGUST 13, 2016 at JW Marriott + Zach Theatre: Unlocking Your Creativity: 3 Ways to Have Amazing Ideas, Fiercely You: Be Fabulous and Confident by Thinking Like a Drag Queen, Professional Pitfalls: Honing Your Professional Demeanor & Relationships For Better Business, Backstage Machinations of Motivating Humans, Creativity is a Remix, Market Strategies to Get Connected, Get Paid!, Love What You Do: The Business of Creativity and Client Service, Pressure Confidence, Beyond the Ping Pong Table, What it Really Takes to Create a Great Place to Work, Journey Mapping: Rethinking the Attendee Experience, David Merrell Presents the Business of Creativity, Real Life Risk Management for Events, Your Brand is as Your Brand Does,
SEARCH Foundation – A Shot of Adrenaline to the Heart…
The SEARCH Foundation assists event, meeting and hospitality professionals in crisis. ILEA is a consistent supporter of the SEARCH Foundation and managed to raise over $10,000 during the ILEA Live 2016 Conference event. The event was hosted at Brazos Hall and produced by Kevin Molesworth, owner of Brass Tacks Events. The theme was a tribute to the films of Quentin Tarantino. It was a lively night packed with guests and performers in full costume. You name it and we saw it: Kill Bill, Django Unchained, The Hateful Eight, Inglorious Bastards, Pulp Fiction, Reservoir Dogs..the list goes on. It was a fantastically entertaining night filled with great food, lively music and exciting guest appearances, including Event Vines founder, Callie Ogden, dressed as Beatrix Kiddo of Kill Bill, performing that famous movie line, "Silly rabbit, Trix are for kids".
Esprit Awards Ceremony..Through the Looking Glass
The ISES Esprit Awards program is designed to acknowledge the extraordinary efforts, performance, and outstanding contributions of ISES members in the special events planning. The theme for this year's event was a tribute to Alice in Wonderland, so needless to say it was magical. The pictures speak for them-self! See the 2016 Esprit Award Winners HERE.  ILEA Austin won "Best Chapter" for the third year in a row!
Event Vines at ILEA Live
In addition to Callie's debut as Beatrix Kiddo, AKA Black Mamba…Event Vines was all over the place. We volunteered and greeted people checking in at the ESPRIT Awards table, stuffed bags, shook hands, sprinkled business cards like fairy dust and talked all of Austin's amazing venues + vendors. Okay, we did more than talk…we projected our love on the wall of multiple events – including Kickoff Happy Hour and the SEARCH Foundation Fundraiser event.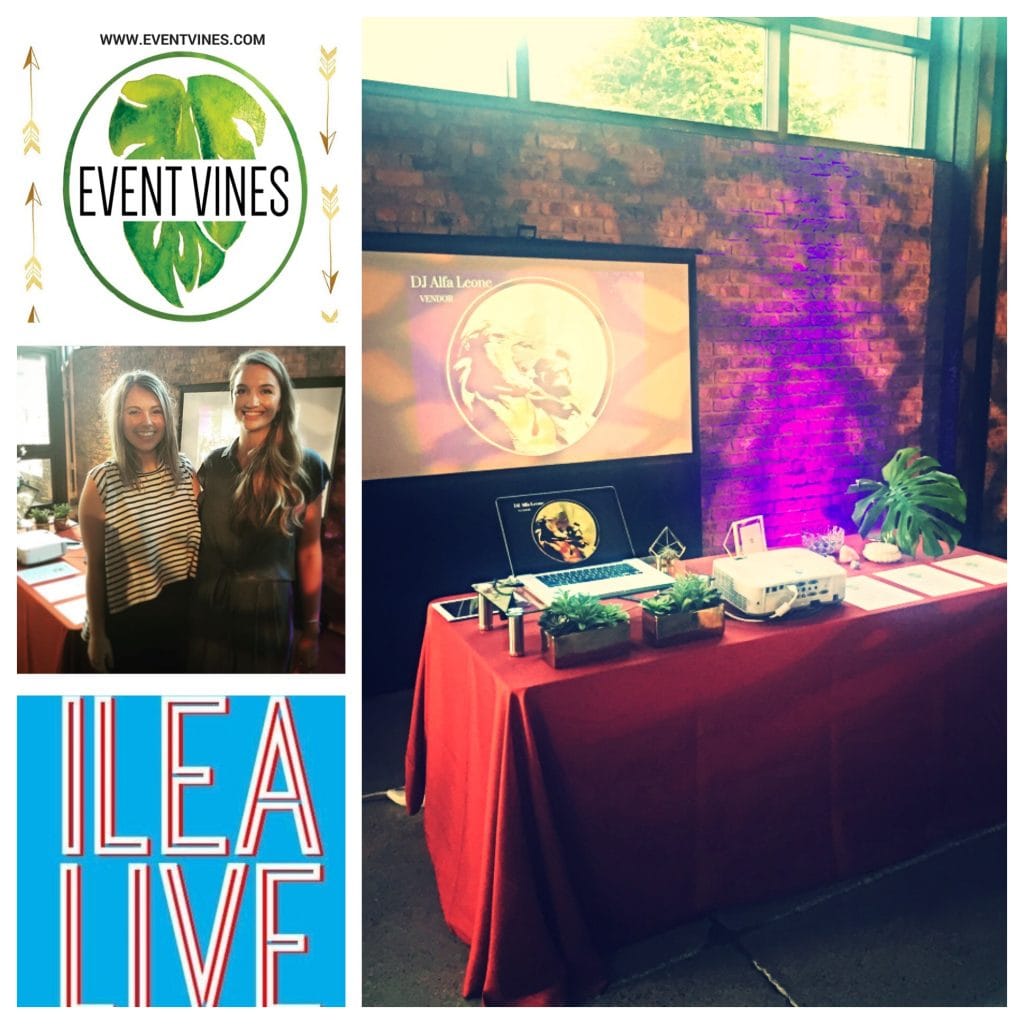 We are helping to revolutionize the event industry – starting with Austin, Texas. Join the Event Vines tribe to stay connected!
Share Your Experience! We Want to Hear from YOU 
Did you love ILEA Live 2016 as much as we did? What was your favorite event or most memorable experience? Where do you think the industry is heading?