We've got some exciting news, y'all. Two solar cycles have come and gone for Event Vines and we are celebrating our second birthday! These past two years have been full of growth, challenges and of course, incredible events. Here is a brief look back at some of our favorite highlights from last year.
2017 was a year of COLLABORATION! We dove deep into the art of partnership last year.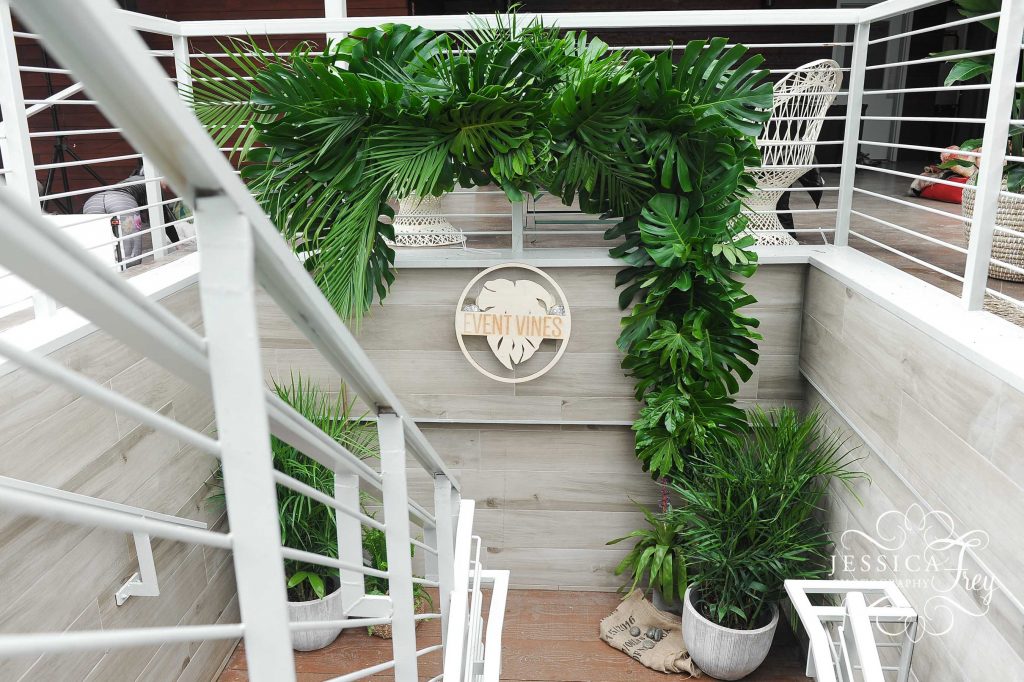 Event Vines had the unique opportunity to curate a collaboration featuring a new rooftop event space, The Vaughn, located in the heart of Downtown Austin.
In the midst of SXSW craziness, we worked with a team of fantastic vendors to transform this metropolitan venue into a tropical, bohemian wonderland. The space was decorated by local interior designer Natalie Holzem, using beautiful pieces from Party at the Moontower Event Rentals. Intelligent Lighting Design provided some groovy lighting, and Bella by Sara kept things lush and green with custom floral designs.
This was a beautiful way to practice synergy and teamwork with talented artisans. The result was a tranquil meeting space for SXSW attendees to rest and recharge.
Supporting Local – Austin Business Collaborations 
Natalie Holzem participated in more than one collaboration with us last year. We love working with this talented designer who brings polished yet distinct style to any kind of event. In this linked editorial,  Event Styling Made Easy, take a peek at the result of some incredible creative teamwork on the part of Event Vines, Natalie Holzem, 10th Collection Event Rentals, photographer Marisa Vasquez and florist The Little Posey. We offer a few tidbits of wisdom for anyone striving to create a simply chic, memorable soiree.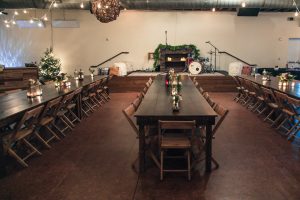 Namaste Holiday was a collaboration with our good friends over at Wanderlust Yoga. We brought in vendors who align with Wanderlust's brand and the industrial style of the interior to transform the space for a night of holiday fun! Moontower Event Rentals was a big player in this event as well. Their beautiful and varied selection of event furnishings can truly set the tone for a transportive evening.
Corporate Collaborations – Going Big
In the past year, we've collaborated with internationally recognized brands like Facebook, SHI International, and Atlassian to source the best venues and vendors for their corporate events. Our white-glove booking service saves time and money! We comb through the options and hand-select venues and vendors who best match their criteria for pricing, availability, group size and style. This service continues to grow in popularity and attracts businesses of all sizes, looking to optimize their event planning processes and resources.
Who doesn't want an unforgettable party without the stress of coordinating? We are always happy to work with new corporate clients, to learn more, click here.
Chat My Event – Podcast Feature
Event Vines Founder, Callie Ogden was a featured guest on the Chat My Event Podcast , the #1 podcast for all things event design, production and planning.  Callie was interviewed along with Cara Fischer of FBR Management and TJ Calhoon from Inspire Pro Wrestling to discuss the fiasco of Fyre Festival from the point of view of event professionals and top festival destinations.
Collaboration was the word of 2017. We will never cease to work closely with our friends and neighbors, but looking forward to our next year, we have a new word.
EXPERIENCE!
Starting with:
New and Improved Homepage and Website User Experience
Event Vines has more to offer than may meet the eye. We are not just a directory of vendors or a party planning service. We are an interactive and inclusive platform for creating memorable moments. There are so many ways to use and learn from our website. Recently, we have revamped the site to make it easier to unleash the power of Event Vines. Here is how to use your dashboard and how to use reviews, favorites and bookmarks on Event Vines.
Launch of Experiences on the Website
Austin is a vibrant city full of people who love activities! EXPERIENCES is a new feature on the website. Discover experiences produced by our venue and vendor members. It's like this: you and all your closest buddies want to plan an unforgettable getaway but you're overwhelmed by the abundant options Austin has to choose from. Experiences allows you to select a complete adventure at the click of your mouse. Boom. You're done. (You can take all the credit, we won't tell.)
Event Vines offers a booking concierge service for planners wanting extra support for research, quote roundup, and proposals. Our venue and vendor members are flourishing from the event sales, brand exposure, and collaborative opportunities we've been providing.
Want to list your business and experience offerings? Just want to start a conversation to learn how to get involved? Contact [email protected]

Launch of the Connect & Grow Movement
Connect & Grow is a movement for people and brands seeking collaborative, unique experiences to inspire social connection and personal growth in the community through outstanding events. 
The launch of this movement is a call for action – summoning a societal shift to increase face-to-face engagement – and cheer on businesses who want to offer their audience a live community experience of their brand. We can all benefit from a little more in-person connection and conversation.
We celebrated the launch with a three-part wellness experience series of Silent Disco Rooftop Yoga classes. Each class in the series focused on either mind, body or spirit. The classes were led by a trio of well-rounded yoga teachers who guided our yogis through a powerful practice.
From all of our hearts, thank you for being part of our journey thus far. We are thrilled to be entering our new year with so many new projects. Join the vine and stay kind.